Recent News
Stardust by Neil Gaiman
In 2020 Ludlow Bookbinders collaborated with Lyra's Books to create a series of beautiful handmade, limited edition books by the popular author Neil Gaiman. Stardust was a highly successful project, with all copies selling out rapidly. With Richard overseeing this project, the quality, craftmanship and attention to detail was second to none. The project received excellent feedback.
Pride and Prejudice, Jane Austen
A beautiful copy of the first edition of the Hugh Thomson illustrated peacock edition of Jane Austen's Pride and Prejudice. Published in 1894 by George Allen. This striking edition was leather bound in a very dark green leather, which beautifully offsets the intricate gold blocking to the front and spine, in the same style as the original peacock edition. At Ludlow Bookbinders we specialise in creating leather bindings for books that are both beautiful, in keeping with the original designs, and ensures longevity of a special title.
Artaud and the Gnostic Drama by Jane Goodall
This book is striking in its design, half bound in black leather, offset by a vibrant yellow silk. Gilt outer edges and black and grey marbled endpapers. The title and author are displayed on the spine also in gold lettering. The book is enclosed in a black cloth slipcase, lined in black suedel and with a blocked image.
---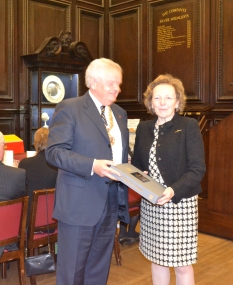 Lady Roberts Keeper of the Royal Library at Windsor Castle accepting a Solander Box made by Phil Parkins on behalf of HM Queen from The Master of the Worshipful Company of Stationers and Newspaper Makers.
---
One the latest recipients of binding from Ludlow Bookbinders...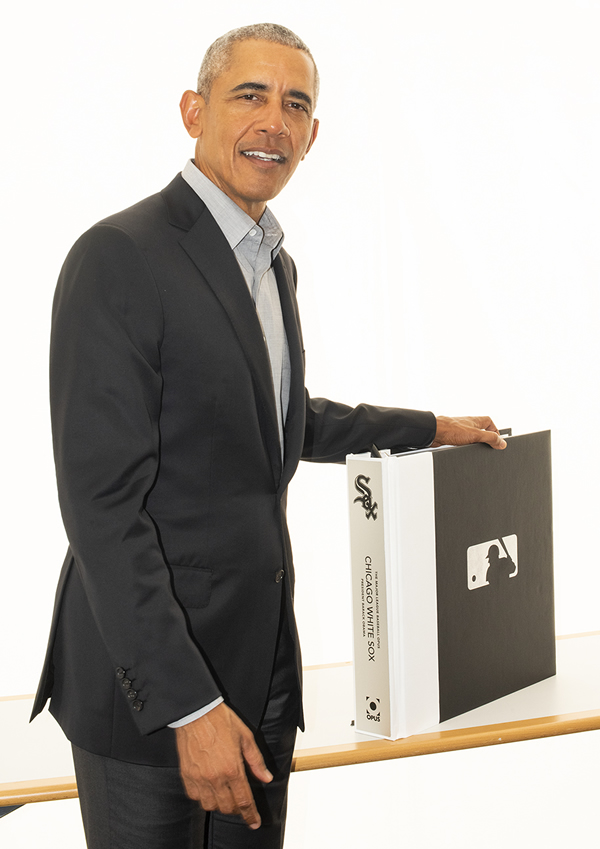 The book on the US Major Baseball Leagues, printed specially for President Obama as a one-off, has been bound by Ludlow Bookbinders.
Company History
This article is about an extarordinary man called Charlie Smith, who worked for Paul Kidson's family firm, JW Braithwaite and Son Ltd for over 70 years.
The article celebrates the first 65 years. He was trained by Paul's Great Grandfather JW Braithwaite and he went on to train Derek Roden who in turn trained Phil Parkins who is now Paul's right hand man at Ludlow Bookbinders.
Click the news clipping to read the full article (PDF).